Director of Programs
Pronouns: she/her/hers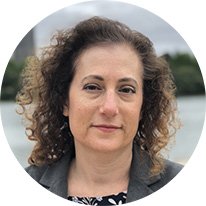 Jennafer Dorfman Wagner is the Director of Programs at Family Violence Appellate Project (FVAP). She
has been a legal services attorney since 1997, including 16 years in a supervisory or managerial role. She
has practiced in diverse geographic regions and in multiple subject areas in previous positions at Mental
Health Advocacy Project (a project of Law Foundation of Silicon Valley) in San Jose, California; Legal
Action of Wisconsin; Washington (DC) Legal Clinic for the Homeless; and Nevada Legal Services.
Since February 2013, her practice has focused exclusively on domestic violence appeals and includes
supervising pro bono co-counsel, paid and volunteer FVAP attorneys, and fellows. Ms. Wagner has been
intimately involved in identifying the legal issues facing survivors across the state and developing the
appellate legal strategy to address those issues, including the on-the-ground training and technical
assistance necessary to preserve the issues for appeal. She was honored for her work in 2018 with a
CLAY award (California Lawyer Attorneys of the Year, selected by the Daily Journal) for family law.
Along with her colleagues at FVAP, her work has resulted in 39 published appellate opinions interpreting
California's domestic violence laws. She also co-authored an article for Family Law News, summarizing
FVAP's 2016 statewide survey of domestic violence advocates. Ms. Wagner has a Juris Doctorate from
Columbia University, and graduated from Mount St. Mary's College, Los Angeles.