Senior Managing Attorney
Pronouns: she/her/hers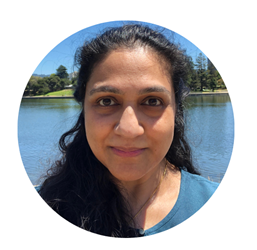 Arati Vasan (she/her) is a Senior Managing Attorney at Family Violence Appellate Project ("FVAP"). She represents survivors of gender-based and family violence on appeal and manages FVAP's training and law clerk/fellow programs. Her work has focused on trauma and culturally-responsive representation and services, language justice, confidentiality protections, and family/dependency court issues for survivors. Arati provided full-scope family/civil court representation for survivors of domestic violence, sexual assault, and stalking in the Bay Area for a decade before joining FVAP in 2018. Arati has given trainings for a wide range of stakeholders at the local, state and national level. She is on the facilitator faculty for the ABA Commission on Domestic and Sexual Violence and has been a faculty trainer for Practising Law Institute and the Vera Institute on Justice. Arati completed her training to be a California Domestic Violence Counselor in 2009 from Asian Women's Shelter. Prior to FVAP, Arati was a staff attorney and coordinated the domestic violence program work at Asian Pacific Islander Legal Outreach. During this time, Arati served as a co-chair of the San Francisco Domestic Violence Consortium for three years. As a member of the SFPD Language Access Working Group, Arati helped to improve law enforcement interactions with survivors including survivors cross-reported to child welfare. Earlier she had a solo family law practice representing survivors of domestic violence. Arati was a pro bono volunteer and did contract work for Bay Area Legal Aid and is a past recipient of their Individual Pro Bono Leadership Award. Arati has been licensed to practice law in California since 2008. She is a graduate of the University of Minnesota School of Law.
September 2023
The Office of Child Abuse Prevention (OCAP) has announced Arati Vasan has been appointed to California's Mandated Reporting to Community Supporting (MRCS) Task Force. There is a national and statewide shift to move mandated reporting to community supporting, allowing children and families to receive adequate intervention and support prior to reaching the need for child welfare involvement. Arati will be part of the team modifying OCAP training on how to better inform mandated/community reporters of existing law and the impacts it has on children when a report is filed and unsubstantiated and when a report is filed and substantiated by child welfare. Focus groups will be part of the transformative change to inform all reporters to respond in a more trauma-informed, family-priority lens.
FVAP is excited to participate in the MRCS Task Force work to ensure reform for a system that ought to keep children and family wellbeing at its center.