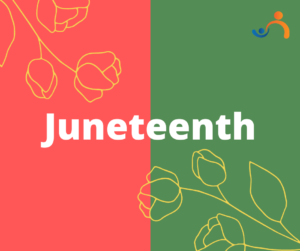 This Saturday, June 19 is Juneteenth.
"Juneteenth is the oldest nationally celebrated commemoration of the ending of slavery in the United States. Dating back to 1865, it was on June 19th that the Union soldiers, led by Major General Gordon Granger, landed at Galveston, Texas with news that the war had ended and that the enslaved were now free. Note that this was two and a half years after President Lincoln's Emancipation Proclamation – which had become official January 1, 1863."  -Juneteenth.com
Over the years, Juneteenth has become a time of celebration for the African American community to commemorate freedom and come together.
FVAP is proud to celebrate and center Juneteenth as part of our continued commitment to further racial justice and race equity. We know that the intersection of racial and gender oppression are central to the experiences of many, if not most, of our clients and potential clients, and we all work tirelessly each day to combat these oppressions.

Learn more about Juneteenth at www.Juneteenth.com.