Executive Director
Pronouns: she/her/hers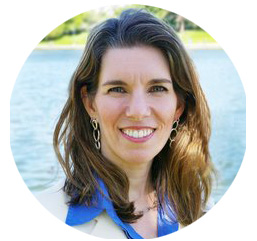 Erin Smith is the co-founder and Executive Director/CEO of Family Violence Appellate Project, the only organization in California and Washington State dedicated to appealing cases on behalf of domestic violence survivors and their children.  Erin has led the organization since its inception in 2012 to its current status as an established statewide legal services provider with an impactful appellate practice in two states.  Erin has spent 20 years working on behalf of domestic violence survivors, as appellate advocate, trial lawyer, legislative and policy advocate, and community partner, actively participating in domestic violence-related speaking engagements, committees, and community activities.  From 2006-2012, Erin acted as lead counsel representing an incarcerated survivor of domestic violence in a challenge to her criminal conviction with a habeas corpus petition.  Erin successfully secured the client's release from prison after more than 27 years of incarceration.  (Read more here, and below.)
Previously, Erin was an associate at Covington & Burling LLP in San Francisco, where her practice focused on complex civil litigation in federal and state courts, as well as in arbitral tribunals.  In 2008, she received the Pro Bono Lawyer of the Year award for her representation of a survivor of domestic violence.  Erin also was Of Counsel at Hoge, Fenton, Jones & Appel in San Jose, where she practiced family law and civil litigation.  In 2011, Erin successfully briefed and argued a family law case before the California Court of Appeal after a victory at trial, obtaining a unanimous published decision affirming the trial court's award of a substantial amount of child support to a mother of four children.
Erin graduated order of the coif (top 10%) from UC Berkeley School of Law in 2004.  While at Berkeley Law, she served as editor-in-chief of the Berkeley Women's Law Journal.  As part of the Domestic Violence Practicum, Erin wrote an amicus brief to the California Supreme Court, which cited the brief in its decision establishing an important principle in domestic violence jurisprudence.  Erin also completed internships at the California Alliance Against Domestic Violence and the Domestic Violence Unit of the San Francisco District Attorney's Office.  After graduation, Erin clerked for the Hon. Gary L. Taylor of the United States District Court for the Central District of California.  Erin received her undergraduate degree in Public Policy Studies from Duke University, where she graduated magna cum laude.
Recognition
Top Family Law Lawyer of 2022, named by the Daily Journal
Volunteer Activities
California Lawyers Association, Litigation Section — Committee on Appellate Courts, 2016-present (Chair 2020-21; Vice Chair 2019-20; Treasurer 2018-19; Secretary 2017-18). Member, Access to Justice Subcommittee.
Alameda County Bar Association, Judicial Appointments & Evaluation Committee, 2018-present.
Legal Aid Association of California, Advocacy Advisory Committee, 2019-present.
California Lawyers Association, Litigation Section — Access to Justice and Civic Engagement Committee, 2019-2021.
Publications and Speeches
Speaker/Trainer: How to Lay a Record for Appeal; California's Domestic Violence Statutes and the Science Behind Them; Recent Developments in Domestic Violence Case Law; and How to Assist Clients in Laying a Record for Appeal in Domestic Violence and Family Law Cases: A Training for DV Advocates and Non-Attorneys (2012-2015, numerous venues)
Keynote Speaker, Paralegal Association of Santa Clara County annual conference, Giving Back:  Using the Legal Profession to Help Survivors of Domestic Violence (2012)
Speaker, Berkeley Law, Providing Pro Bono Legal Services:  Entrepreneurial Leadership Panel (2012)
Speaker, Stanford Law School, John and Terry Levin Center for Public Service and Public Interest Law, Nonprofit and Private Public Interest Law Firm Panel (2012)
Speaker, California Partnership to End Domestic Violence annual conference, How to Lay a Record for Appeal (2012)
Speaker, California Habeas Project,  Lessons Learned from a Recent Successful Habeas Case (2012)
California Court of Appeal Holds Divorce Judgment Does Not Preclude Domestic Violence Tort Action, Domestic Violence Report (2011)
Amicus Brief, People v. Brown, 33 Cal. 4th 892 (2004), published in Domestic Violence Law (2009 & 2005 eds.)
Speaker, California Habeas Project, Conducting Investigations (2008)
Panelist, Law Students for Reproductive Justice National Leadership Retreat (2008)
Book Note, Convicted Survivors:  The Imprisonment of Battered Women Who Kill, 18 Berkeley Women's L.J. 314 (2003)